A look around our nursery in Cheshire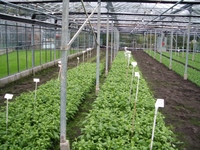 A bed of new young plants
As a crop grows, nursery staff will select and mark plants that show any variation in colour or form. These plants are then grown on for several years to make sure that the variations are stable. This is how the new Lemon form of American Beauty was developed.


Cuttings ready to plant out





Part of the propagation unit, with a batch of Misty series cuttings ready to plant out. This glasshouse has under-floor heating and computer controlled heating and ventilation. After the cuttings are taken, from virus-free mother plants, they are dipped in rooting hormone and inserted into trays of blocking compost. The trays are then placed directly on the concrete floor and covered with polythene sheet. Rooting takes two weeks. The polythene is then removed to allow the cuttings to acclimatise prior to planting out.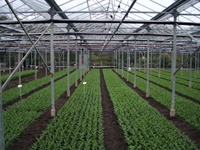 A crop of Misty series planted out
These have been planted for about two weeks and have just been pinched out. The glasshouse has automatic watering and ventilation, as well as computer controlled blackout screens and lighting to produce the short days that Chrysanthemums need to initiate flower buds. Plants are in 20cm (8") squares and will be supported by wire mesh that is raised up as the crop grows.

American Beauty Yellow just starting to show colour





Just a small part of the 5.5 acres of glasshouses with a crop of Chrysanthemum American Beauty just starting to show colour.
American Beauty ready for cutting





American Beauty is grown at the nursery for the Christmas market. The last crop is planted at the end of July and this will supply the blooms in the last weeks of December.

Blooms ready for market





A trailer each of Misty Cream and Misty Golden blooms ready to send to market. Each trailer contains over 800 stems, which will last for 3 - 4 weeks in the house. Annually we cut around 1.25 million blooms, making us the only large scale producer in the UK.